Timing can make a huge difference when it comes to installing artificial grass. Synthetic turf has become increasingly popular due to its beautiful, natural look all year round, unlike real grass that needs constant care to stay both a manageable length and a healthy shade of green.
While you can install artificial turf all year round, there are several factors to consider in order to save time, money and the longevity of your artificial turf.
Here are 4 things to consider before laying your turf.
Peak Vs Off-Peak Periods
Just like any industry, some times of the years are busier than others. During the peak season, particularly just before summer when having the perfect yard set up is ideal for Christmas parties and lazing by the pool, artificial turf professionals can quickly book out, so it is important to book your installation as soon as possible.
If you don't have a pressing time period you want your artificial turf done by, it may be a good idea to book ahead in an off-peak time with your preferred turf professional. This will ensure you get a top quality installation with a quick turn-around.
A quality installation is worth it and will make your artificial turf last! The Luxe Turf team specialise in delivering the full package from the design stage through to completing basic and complex projects.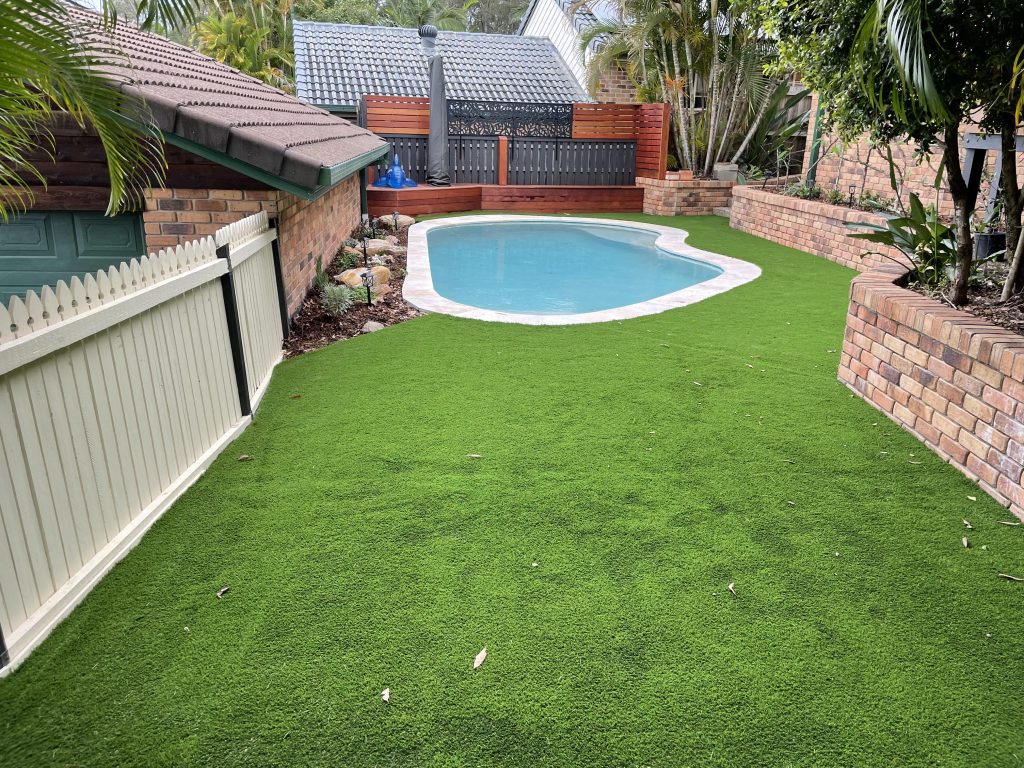 Weather
Luckily, here on the Gold Coast, we are granted plenty of beautiful sunny days. We do however get the occasional rain which can impact the installation of your turf. Rainy weather will definitely make the ground compacting process prior to the laying of the artificial turf difficult and can mess up the integrity of the base. Depending on the type of artificial turf, they can shrink or expand, depending on the temperature. This will lead to creasing and uneven laid grass.
Luckily, at Luxe Turf we use a premium range of artificial grass that is tested and proven to be a favourite for many looking for a luxurious turf with little maintenance. All of Luxe Turf products pass extensive quality assurance management practices which ensure U.V stabilisation, durability and safety properties. If the weather is an issue, our professional team will still do a well-timed job on the installation that will give you no trouble in the future, regardless of the weather.
Expected Traffic
It is a good idea to install artificial turf when your yard is not in use. For example, if you are a school and want to lay turf down, it is best to do it over the school holidays when the area is vacant. It is best to keep off the turf for a couple of days so the turf can rest undisturbed for a little while after it has been laid down, otherwise, you may experience some premature damage.
Consider when works best for you
Pick a time that is convenient for you. If you are rushed and need your installation done quickly, it could lead to a rushed installation and inevitably a bad job. You don't need to be there throughout the installation process, however, you may need to be there to authorise the entry of the turf professionals into your private property or let them in if the installation is indoors. If you would like to personally oversee the project, you may want to take some time off work or book in for a weekend installation.
With all that in mind, you can trust our team to do an impeccable job. Our services will not disappoint and the quality of our products and completed projects will ensure the long list of satisfied customers we have worked with continues to grow.
Luxe Turf has been created to provide hassle free and professional solutions for your synthetic turf requirements. Based on the Gold Coast and with an extensive network of like minded experts, we are able to deliver your project Australia wide. We specialise in design, supply and installation of premium synthetic turf for landscape, commercial projects and sporting facilities.