There are many benefits to using artificial turf, one of the main reasons so many people across Australia love it, is because it looks beautiful all year long with little to no maintenance! Now that is a win. Another thing we love about artificial grass is it is versatile and can be used for plenty of different surfaces and purposes. Whether you want to refurbish a sports ground, refresh your garden or pool area or create a safe play area within a daycare, we can do it all. Another popular way artificial turf is being used is on balconies and rooftops. Many people are steering away from the traditional balcony setup and opting to use fake turf to freshen up their outdoor area.
Here are 5 reasons why we think you should use artificial turf on your balcony.
Make your balcony feel like a garden
Ditch the mediocre balcony you barely want to spend time on. Instead, make your balcony a garden oasis you love. Fake turf is a great way to revamp your balcony area and turn it into a mini garden with pot plants, a nice seating area, or pretty much anything you want!
A green space is particularly important if you live in a city as it helps reduce anger, stress and fear and increases pleasant feelings. Your balcony area should make you feel calm and happy, whether you're enjoying an afternoon wine or entertaining friends. We have had plenty of happy customers who have loved turning their balcony into a garden oasis with the help of fake turf, which adds that extra layer of nature that you simply can't get from other indoor surfaces.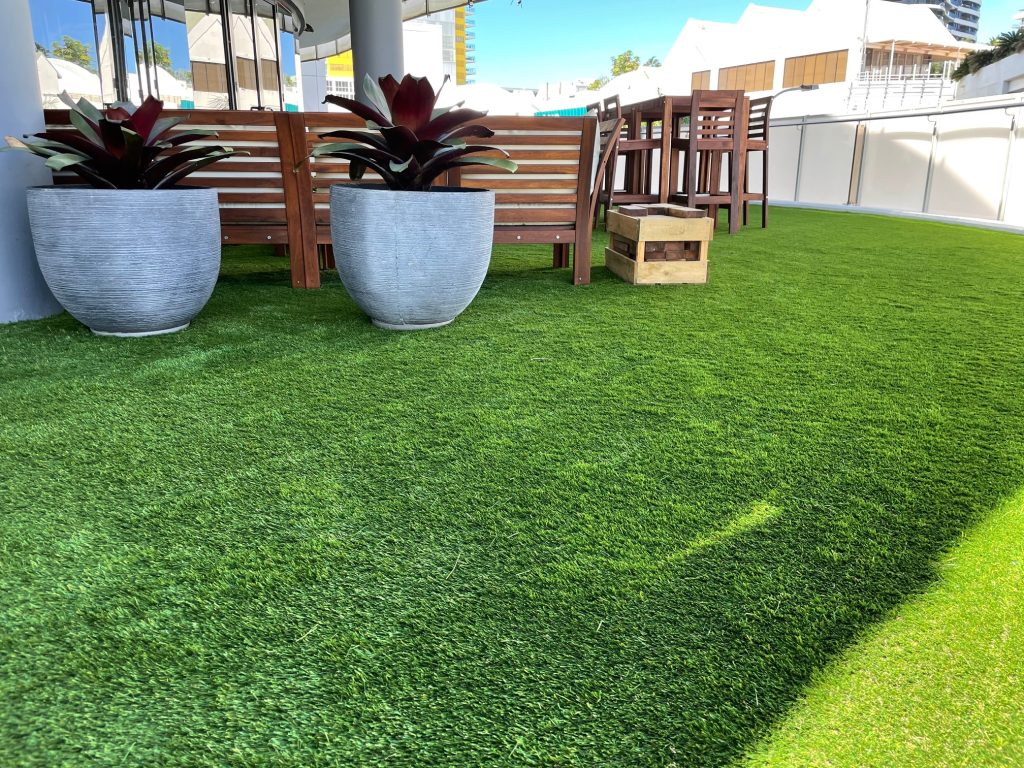 It is designed to withstand Australian conditions
We live in a hot climate that can be quite unpredictable. Weeks of rain and the blazing hot sun can have an effect on your balconies surface. Many types of panelling or concrete can't withstand heat or rain. Fortunately, artificial turf is durable and can withstand plenty of traffic and all the weather conditions our unpredictable climate experiences. With over 20 years of working with the best manufacturers in the industry, we have an extensive range of products to suit your balcony.
Not only is it durable, but our artificial turf will also hold its lush green colour all year round, so you can enjoy your balcony area all year round.
It provides extra insulation
Artificial turf is great for providing insulation on your balcony or rooftop. If you live in a warmer area like the Gold Coast, a lot of decking can actually get incredibly hot from the sun. Fake turf can absorb the heat, making your balcony cooler and more comfortable to entertain on.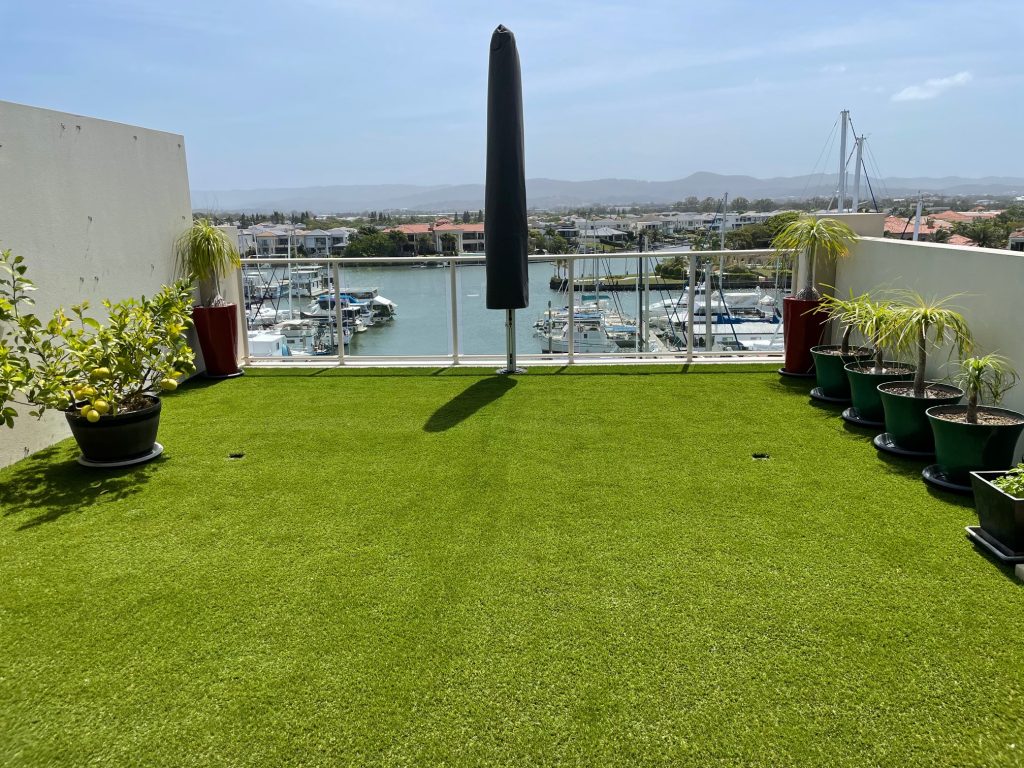 Low maintenance
Our quality synthetic grass will last years with minimal maintenance. All water and liquids will simply drain away and the material we use are only of the best quality, meaning it is resistant to tears, lifting and stains. If you live a busy lifestyle but still want a beautiful outdoor area on your balcony or rooftop, we believe artificial turf is for you.
Types of residential artificial turf
At Luxe Turf we have 3 types of residential turfs to choose from based on your needs:
Comfort turf: This is perfect for lawns that are used for playing on and requires that extra bit of a soft feel.
Nice natural look with the extra luxurious feel.
A robust lawn that can handle heavy traffic and items, such as sun loungers and kids playing footy.
Coastal turf: This turf provides the aesthetics of a freshly cut lawn 365 days of the year. Great for those areas which grown lawns just don't work. It has a natural look and feel, without any maintenance.
Luxurious in look and feel.
Forever turf: This turf is a beautiful blend of Australian grass inspired greens and textures. This 35mm high bladed turf will stand up to the harshest of conditions and keep giving your lawn a great look and feel.
Suitable for residential lawns and commercial recreation areas.
Great look and feel every day of the year.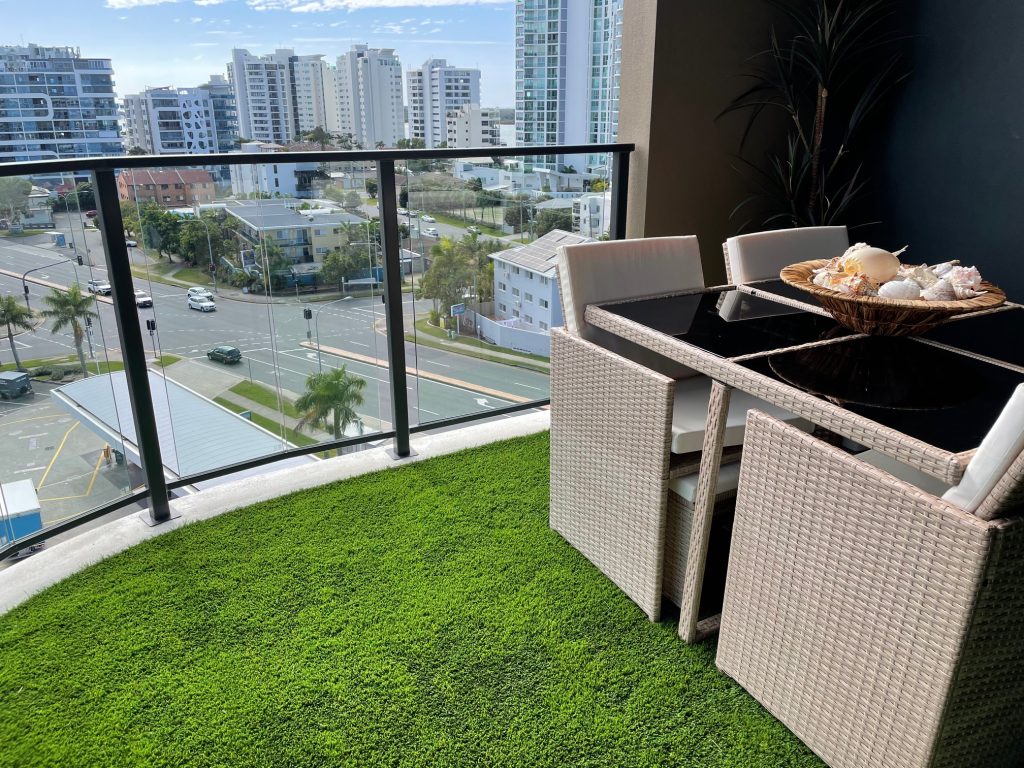 Luxe Turf has been created to provide hassle free and professional solutions for your synthetic turf requirements. Based on the Gold Coast and with an extensive network of like minded experts, we are able to deliver your project Australia wide. We specialise in design, supply and installation of premium synthetic turf for landscape, commercial projects and sporting facilities.