Artificial turf is an amazing alternative to real grass. Because let's face it, who wouldn't want a beautiful, green and natural-looking lawn for 365 days a year without the fuss of mowing and watering? We know we do!
At Luxe Turf we install natural looking and luxurious grass with little maintenance, so you can spend more time at the beach, instead of tirelessly mowing your lawn.
There are many misconceptions around artificial turf, from the price to its impact on the environment and durability.
Well, we are here to debunk a few common myths surrounding artificial turf so you can be confident that it is the right choice for your home.
It looks fake
This is false!
When artificial turf was created it may not have looked real.
But over time, artificial turf has greatly improved making it look and feel as good as the real thing! Our residential turf range has been developed using over 20 years of experience within the industry, working with advanced yarn technologies and the world leaders in artificial turf. So, you can rest assure our turf looks just as real as the real thing!
Artificial turf is bad for dogs
False!
Artificial turf can be pet friendly and is loved by many dogs and owners. 
Digging is a part of a dog's nature, but it can often be at the expense of your lawn. Holes scattered around your backyard can be frustrating and costly to fix. Artificial turf can withstand heavy foot traffic, which means it can handle even the most determined dog when it gets digging.
Natural grass and soil are good for the environment, but they do harbour substances such as fertilizers, insects and ticks which can be harmful to your pet. Alternatively, artificial grass is non-toxic and hygienic, making it an overall better environment for your dogs to run around in.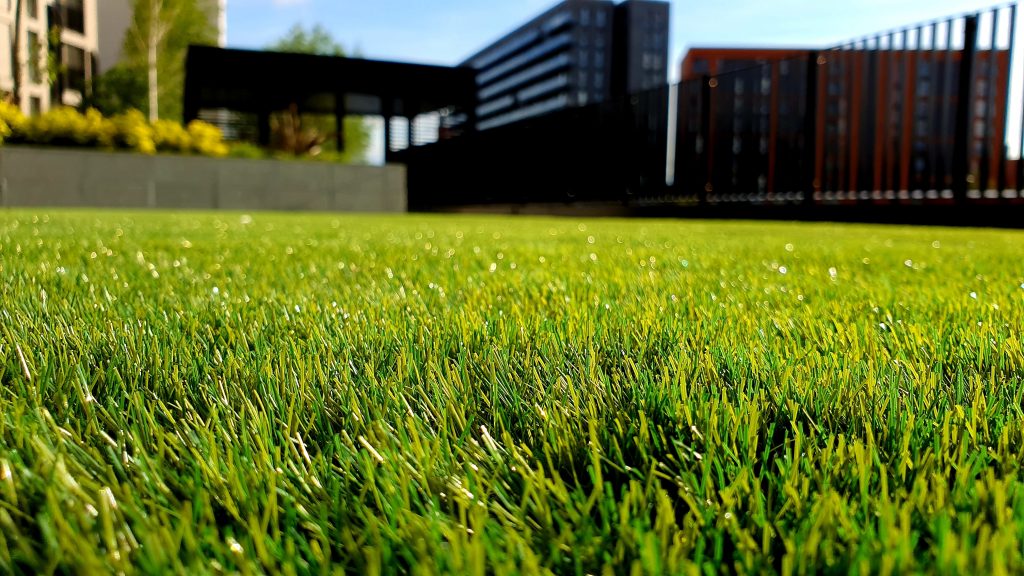 It's bad for the environment
False!
Artificial grass does not need to be watered like natural grass, this means you will reduce your water consumption which is better for your environment. Fertilizers and pesticides can also be very harmful to the environment. These can be avoided when choosing artificial grass.
It has poor drainage
This is false!
When artificial turf is installed correctly, it has great drainage properties and in most cases, it will dry quicker than natural grass.
Our high quality installation method will ensure that your grass will drain out efficiently so it can cope with heavy rainfall and be protected against flooding.
It isn't a good option for homes
False!
Artificial grass is a great option for homes! Yes, it started as grass for sports pitches, but it has since been developed to create real, comfortable grass for residential areas.
At Luxe Turf we have a wide range of styles, colours and pile heights to choose from. Its versatility means it looks great in gardens, roof terraces, pool areas and balconies.
Here are 3 residential turf options for your home:
Comfort turf: This is perfect for lawns that are used for playing on and requires that extra bit of a soft feel.
Nice natural look with the extra luxurious feel.
A robust lawn that can handle heavy traffic and items, such as sun loungers and kids playing footy.
Coastal turf: This turf provides the aesthetics of a freshly cut lawn 365 days of the year. Great for those areas which grown lawns just don't work. It has a natural look and feel, without any maintenance.
Luxurious in look and feel.
Forever turf: This turf is a beautiful blend of Australian grass inspired greens and textures. This 35mm high bladed turf will stand up to the harshest of conditions and keep giving your lawn a great look and feel.
Suitable for residential lawns and commercial recreation areas.
Great look and feel every day of the year.
Artificial turf is too expensive
False!
There is the misconception that artificial turf is expensive. However, it can often be cost-effective over the long term and save you less than a real lawn.
At Luxe Turf, we offer the most cost-effective to advanced residential turf products. All of our installation work is fully insured throughout the process and completed on time and within budget.
When you add up the cost of lawnmowers, grass feed, fertilisers, pesticides, water usage, and re-turfing which is needed to maintain a real lawn, artificial turf can actually be a lot cheaper.
While yes, the cost is more upfront with the installation it will save you time, money and effort in the long run.
Now you can be sure artificial turf is right for your home!
Luxe Turf has been created to provide hassle-free and professional solutions for your synthetic turf requirements. Based on the Gold Coast and with an extensive network of like minded experts, we are able to deliver your project Australia wide. We specialise in the design, supply and installation of premium synthetic turf for landscape, commercial projects and sporting facilities.
Contact us today on 0400 559 958 or click here!