A pool is a great way to bring people together, a place to be enjoyed by the entire household and your friends and family! It is also a great way to stay cool in the blistering hot summer days, especially on the Gold Coast where temperatures soar during the warmer months. Choosing a pool is only the beginning when it comes to creating the perfect pool area. From there, you'll have to choose what plants you like, pool features and of course, what type of base you want around your pool area.
There are plenty of options to choose from, including pavers and natural grass. What we suggest here at Luxe Turf is artificial grass.
Here are 3 reasons why we think you should choose artificial grass as a base around your pool.
It's cost-effective
Installing a swimming pool is quite an expensive project. While we don't believe you should skimp out on quality,  it is a great idea to weigh up the costs involved in creating your pool area. With that in mind, we recommend artificial grass as it is both cost-effective and durable.
The largest cost is the installation, but once installed the maintenance is very low. It won't need any care in the long term which will save you some pretty pennies and importantly, time that you can use to actually enjoy swimming in your pool! If you opt for natural grass you will need to invest time to seed, fertilize, water, mow and use pesticides to keep your natural grass looking spick and span, not to mention the cost involved in this.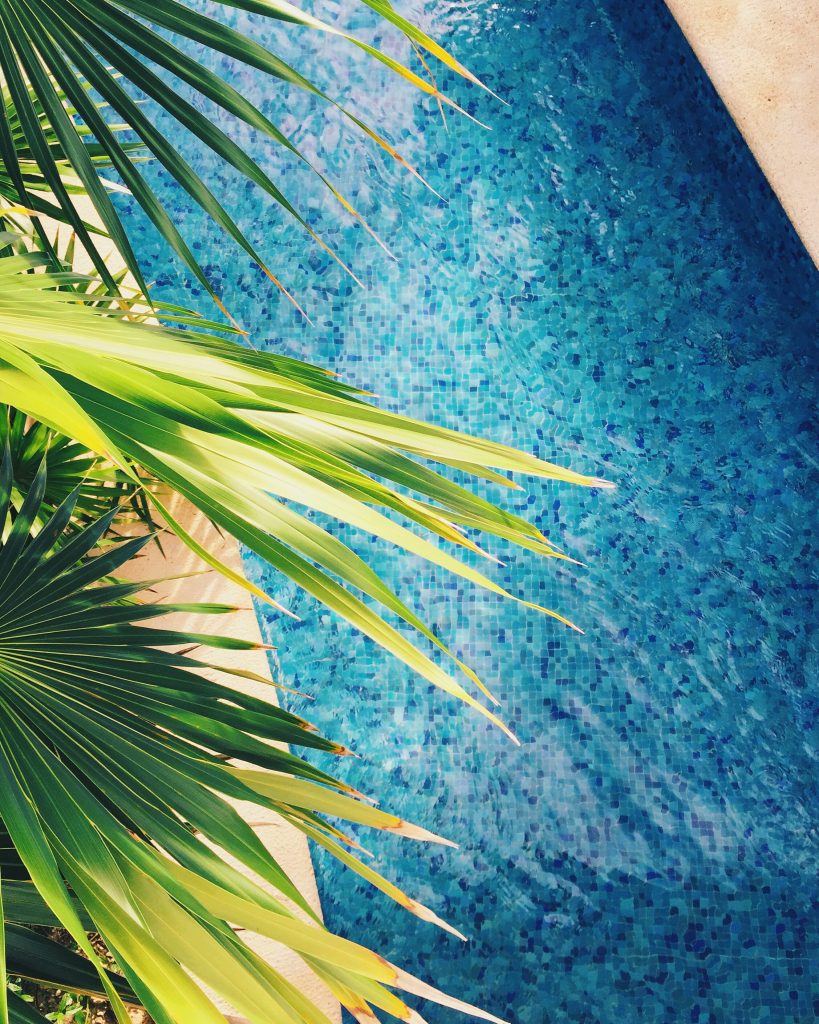 It has great drainage
This is incredibly important with children splashing in and around the pool, sodden feet walking around and of course the regular showers that may occur. Having a base that drains easily is incredibly important around a pool.
Without good drainage, it is likely you will be worrying about wet and slippery surfaces, as well as puddles of water. These can be slipping hazards, especially if you have small children. With natural grass, the soil under it can easily spill into the pool water when wet, making a rather insightful mess that can be difficult to clean.
Artificial grass is the perfect option when it comes to drainage! When artificial turf is installed correctly, it has great drainage properties and in most cases, it will dry quicker than natural grass. And, when you install with us, we ensure your artificial grass will drain efficiently in order to cope with even the heaviest of rainfall!
It can withstand heavy traffic
If you're spending lots of time around your new pool area, it's likely the base around it will experience some rather heavy traffic. High traffic can leave worn patches in your natural grass and if you have sunbeds that sit in one spot, it will leave the grass underneath dry and brown. With artificial grass you won't need to worry about the amount of traffic affecting its quality, all our synthetic grass is made to handle heavy amounts of traffic.
It looks great!
If you're going to buy an amazing pool, you want a pool area to match! Artificial grass can look amazing and you don't have to sacrifice the look or feel of real grass. Our premium range of artificial grasses have been tested and proven to be a favourite for many looking for the luxury feeling of turf. It is also a better alternative than hard pavers which on sunny days can be painfully hot to walk on.
Types of residential artificial turf
So, you're ready to install artificial turf around your pool area! Great, here are our options.
Comfort turf: This is perfect for lawns that are used for playing on and requires that extra bit of a soft feel.
Nice natural look with the extra luxurious feel.
A robust lawn that can handle heavy traffic and items, such as sun loungers and kids playing footy.
Coastal turf: This turf provides the aesthetics of a freshly cut lawn 365 days of the year. Great for those areas which grown lawns just don't work. It has a natural look and feel, without any maintenance.
Luxurious in look and feel.
Forever turf: This turf is a beautiful blend of Australian grass inspired greens and textures. This 35mm high bladed turf will stand up to the harshest of conditions and keep giving your lawn a great look and feel.
Suitable for residential lawns and commercial recreation areas.
Great look and feel every day of the year.
Luxe Turf has been created to provide hassle-free and professional solutions for your synthetic turf requirements. Based on the Gold Coast and with an extensive network of like minded experts, we are able to deliver your project Australia wide. We specialise in design, supply and installation of premium synthetic turf for landscape, commercial projects and sporting facilities.