To have the perfect natural lawn is hard work. Not enough water, a little too much of the hot Gold Coast sun and your once beautiful lush green lawn will have wilted away to a rather atrocious brown. There are many things that can go wrong to make it unruly and hard to manage. But don't worry, we have a list of some common lawn problems and how you can best avoid them!
Too much or not enough sun
Just like us humans, if your natural lawn is getting too much sun it's not going to fair well. But, if it doesn't get enough sun, well it's not going to look so flash either. A natural lawn needs the perfect balance between sunlight and shade, which has the added element of difficulty when you live in the sunshine state that swaps between blistering hot summer days and tropical rain.
So, the alternative to make sure your lawn looks amazing all year round is synthetic turf!
The Luxe Turf premium range of artificial grasses has been tested and proven to be a favourite for many looking for the luxury feeling of turf without the usual maintenance issues of grown turf.
And we assure you, it will look a perfect shade of green 365 days of the year!
Wear and tear
If you have pets, children or just like to spend a lot of time walking on your natural lawn, well the wear and tear is going to affect the appearance of your lawn. Many people redirect traffic in order to help their natural lawn grow, but that is often an unideal alternative. With synthetic grass, you don't have to worry about traffic affecting your lawn! All our turfs can withstand heavy traffic, so you can enjoy kicking a footy in your backyard or laying down heavy items such as sun loungers and still have beautiful green grass – now that is a win!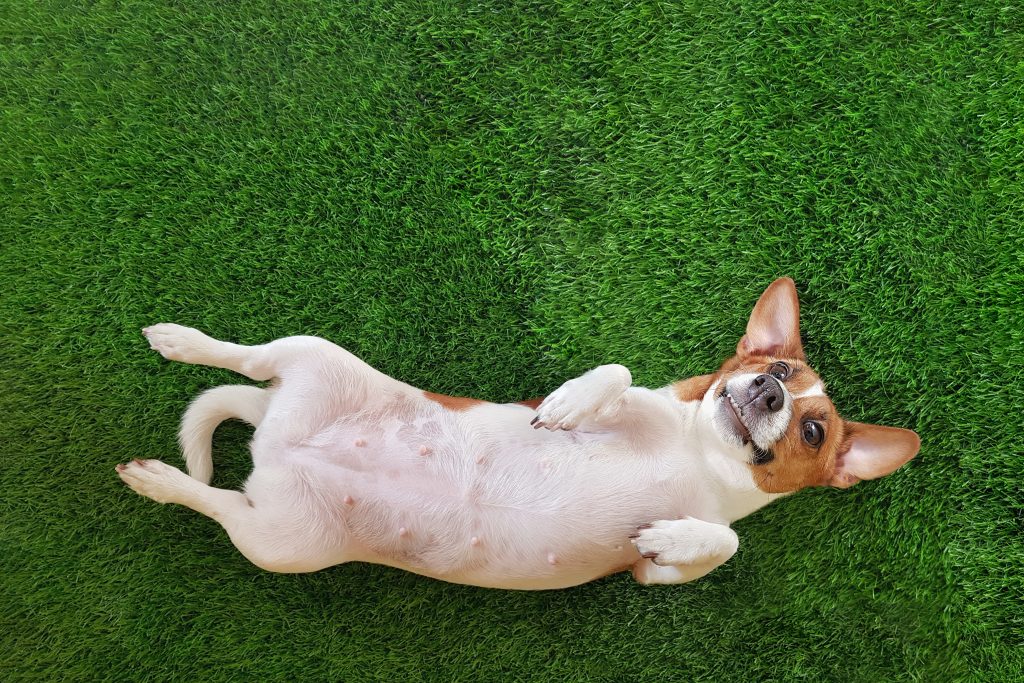 Wrong mowing habits
Mowing your lawn can be a boring chore, one that can take a lot of energy. Incorrect mowing habits such as mowing when wet and when it is too short can affect the quality of your natural lawn. If you want a healthy lawn it is encouraged to mow it frequently so it grows nice and thick.
Would you rather be mowing your lawn or enjoying a beautiful barbeque with your family? We know what we would choose. Once your synthetic lawn has been installed by our incredible team you'll never have to worry about pulling the rope start and spending hours maintaining your lawn! With all the added time, who knows what you could do!
Fertilising too often
Fertilising too frequently or applying too much to one spot can create dead patches of grass. Excess amounts of nitrogen from fertilisers can also damage your lawn. Applying the right amount can be difficult and it is important you water your lawn properly after application. Ditch the fertilisers and enjoy a synthetic lawn that doesn't need nasty pesticides to stay healthy. We assure you, it is the better alternative!
Types of turf
At Luxe Turf we have 3 types of residential turfs to choose from based on your needs:
Comfort turf: This is perfect for lawns that are used for playing on and requires that extra bit of a soft feel.
Nice natural look with the extra luxurious feel.
A robust lawn that can handle heavy traffic and items, such as sun loungers and kids playing footy.
Coastal turf: This turf provides the aesthetics of a freshly cut lawn 365 days of the year. Great for those areas which grown lawns just don't work. It has a natural look and feel, without any maintenance.
Luxurious in look and feel.
Forever turf: This turf is a beautiful blend of Australian grass inspired greens and textures. This 35mm high bladed turf will stand up to the harshest of conditions and keep giving your lawn a great look and feel.
Suitable for residential lawns and commercial recreation areas.
Great look and feel every day of the year.
Luxe Turf has been created to provide hassle free and professional solutions for your synthetic turf requirements. Based on the Gold Coast and with an extensive network of like minded experts, we are able to deliver your project Australia wide. We specialise in design, supply and installation of premium synthetic turf for landscape, commercial projects and sporting facilities.