There is a reason Queensland is nicknamed the "Sunshine State." Known for its tropical and subtropical climates, Queensland experiences plenty of hot and humid summers, with temperatures reaching well over 40 degrees! With that being said, your lawn must be able to cope with these conditions, otherwise, you'll end up with a dry, brown and sad looking lawn.
Installing a natural lawn in a warm climate takes a lot of maintenance and water to keep green. Instead of wasting hours of your time trying to keep your lawn a beautiful shade of green, by watering, pruning, mowing and using pesticides, you can opt for an artificial grass lawn that will be able to withstand the summer days with minimal effort!
Still not convinced? We have 3 reasons why opting for artificial turf is best for Queensland's climate.
Saves Water
Freshly laid natural lawns need more water due to the root system still taking hold and building their strength and drought tolerance. It is recommended that for a natural lawn, you water it daily. If temperatures exceed 28 degrees, it is recommended that you water it twice a day to keep it green.
Having to water your lawns frequently will be costly. Reducing water usage reduces the energy required to process and deliver it to homes, which, in turn, helps to reduce pollution and conserve fuel resources. Moreover, water is a natural resource and with frequent droughts and water restrictions in Queensland, you may not be able to water your lawn frequently, leaving it brown and wilted.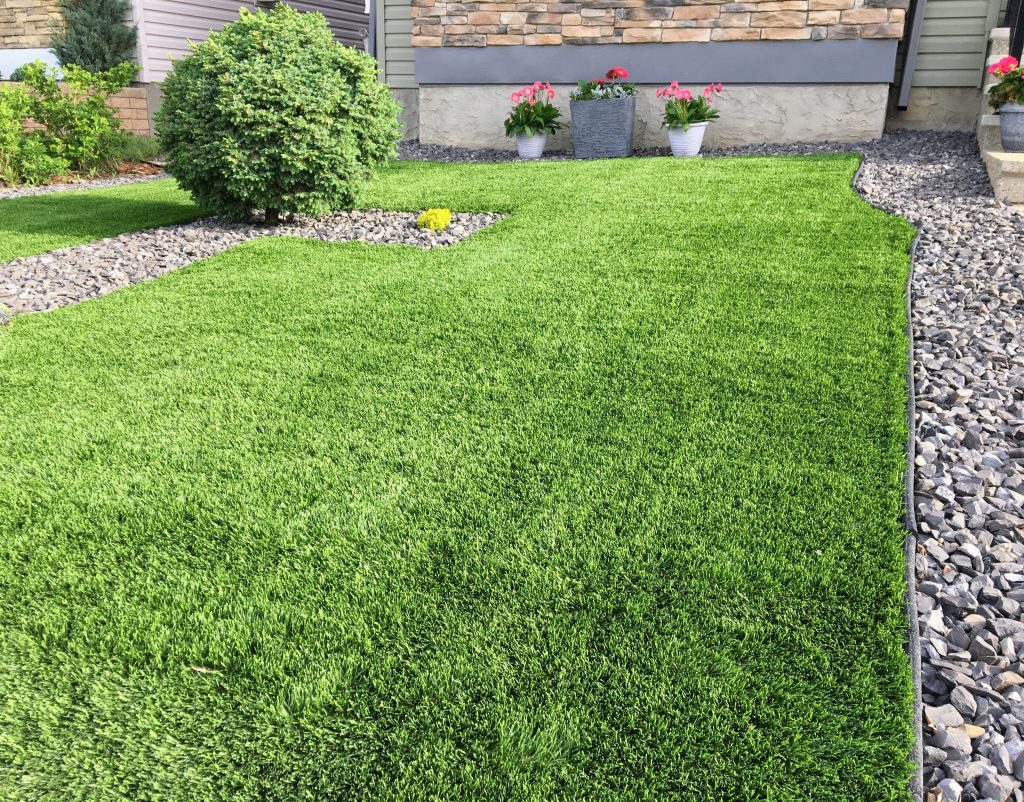 Looks good year-round
One of the main reasons why artificial turf is used so widely is that it looks good all the time! Who wouldn't want luscious green grass 365 days a year? Natural turf is temperamental based on the weather, with artificial grass you won't have to worry about it going brown! You can rest assured our turf is made of the best quality, meaning it will withstand the hot Queensland sun so you can enjoy a beautiful lawn all year round.
It's cooling
Despite what many people think, artificial turf can be cooling! When you install synthetic lawn there are infill options that naturally cools your turf for you. A Natural sand infill is the best choice as it helps keep your turf cooler. Sand has a low heat capacity but also helps to retain water.
At Luxe Turf our products pass extensive quality assurance management practices which ensure U.V stabilisation, durability and safety properties.
Types of residential artificial turf
At Luxe Turf we have 3 types of residential turfs to choose from based on your needs:
Comfort turf: This is perfect for lawns that are used for playing on and requires that extra bit of a soft feel.
Nice natural look with the extra luxurious feel.
A robust lawn that can handle heavy traffic and items, such as sun loungers and kids playing footy.
Coastal turf: This turf provides the aesthetics of a freshly cut lawn 365 days of the year. Great for those areas which grown lawns just don't work. It has a natural look and feel, without any maintenance.
Luxurious in look and feel.
Forever turf: This turf is a beautiful blend of Australian grass inspired greens and textures. This 35mm high bladed turf will stand up to the harshest of conditions and keep giving your lawn a great look and feel.
Suitable for residential lawns and commercial recreation areas.
Great look and feel every day of the year.
Luxe Turf has been created to provide hassle free and professional solutions for your synthetic turf requirements. Based on the Gold Coast and with an extensive network of like minded experts, we are able to deliver your project Australia wide. We specialise in design, supply and installation of premium synthetic turf for landscape, commercial projects and sporting facilities.